LOCATION
Our school is located on our own airport set up for the exclusive use of our students, in the town of Danbury, Texas. Danbury is located between Galveston and Freeport on Highway 35 just south of Houston. We have year round great weather and lots of things to see and do when not training, such as: Galveston Beach, The Johnson Space Center, Minute Maid Park and Reliant Stadium, plus all the Houston stores and places for the Nightlife, just to name a few.
We are conveniently located near Highway 35 South of Houston. If coming from the north or the south, in the immediate area, take Highway 35 to Spur 28 and follow the signs through Danbury. For those customers not in the local area, we suggest simply calling, or e-mailing for directions and other information that you might require.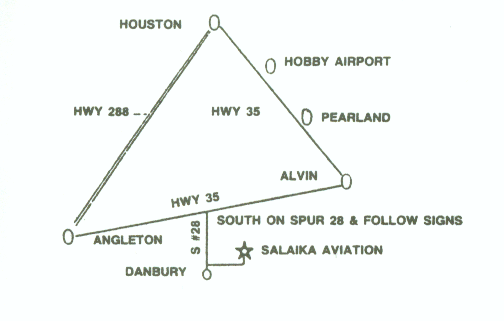 We are open at our Southeast Texas location
Monday - Saturday 9 am - 5 pm CST
unless a prior appointment has been made.
Phone: 979-922-8162
Also: 800-441-6097
Fax: 979-922-8679
E-mail Address: contact@salaikaaviation.com